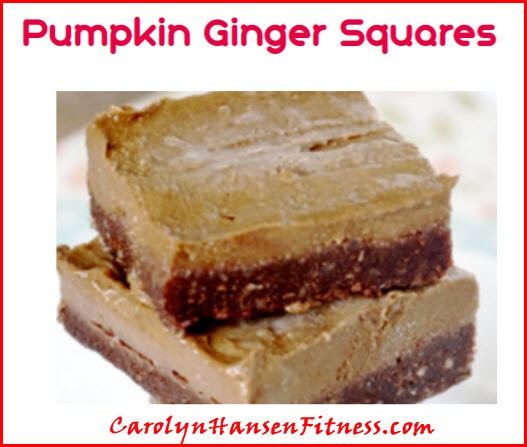 Pumpkin Ginger Squares
Looking for a new family taste-treat, the perfect treat or dessert the whole family will love, but it must meet your standard of healthy ingredients?
Check out these Pumpkin Ginger Squares. Pumpkin is a very versatile veggie and used for centuries in both sweet and savory dishes. It is weight-loss-friendly and boasts nutrients (vitamins and minerals) and antioxidants empowered to boost immunity, lower risk of certain cancers, promote heart health and protects eyesight (ample supply of beta-carotene) from the bright orange color).
Pumpkin also provides a big hit of Vitamin A – fights infections and viruses and Vitamin C (recover from colds quickly). Both these vitamins are powerful antioxidants that act as cellular shields against cancer causing free radicals.
For more delicious and healthy dessert recipes that incorporate veggies into the mix check out:

You can find more healthy, raw desserts that are gluten and sugar free:
Pumpkin Ginger Squares
Looking for a more delicious way to enjoy pumpkin? Pumpkin has been a long-time favorite veggie used with great success in desserts for centuries. Nothing beats a good-for-you treat that tastes delicious too. Pumpkin Ginger Bites fit the bill perfectly.
Ingredients
Base
1 cup almonds
½ cup walnuts
1 cup dates, soaked at least 30
minutes and drained
¼ cup cocoa or cacao powder
1 teaspoon ground ginger
Topping
1 avocado
½ cup pumpkin puree
½ cup dates, soaked and drained with the others in the base recipe
½ cup coconut oil, gently warmed until liquid
¼ cup cocoa or cacao powder
1 teaspoon vanilla essence
Instructions
Base
Combine the almonds and walnuts in a food processor and process until mixture becomes crumbly.
Add in the dates, ginger, nutmeg and cinnamon and process again until you achieve a sticky and smooth batter.
Press into a glass dish or pan (8 x 8 inch) and press down evenly.
Topping
Place all ingredients in food processor and blend until a smooth consistency is reached.
Pour the topping over the base and place the pan in the freezer to set or until the fudge has hardened enough to slice.
Slice into squares and enjoy!