For anyone wondering if they may need to eliminate bread from their diet...
If You Think The Words "Healthy" And "Bread" Do Not Belong Side-By-Side In A Sentence, This Is Good News For You!
From The Desk Of Carolyn Hansen
Re: How To Give Up The Junk Food Without Punishing Your Taste Buds
Is there any smell in the kitchen that is more mouth-watering than freshly baked bread? It's not simply a smell, it's a warm, enticing fragrance that promises your taste buds a treat to eat.
But, what if you are gluten-intolerant, a diabetic, or counting calories. Surely you don't want to reach for a slice of bread. EVERYONE knows that, right? Well, that's not right and I know better. And in a moment, you will too.
Hi, I'm Carolyn Hansen. I have spent my life developing healthy recipes for people who realize you really ARE what you eat. In addition to being a "healthy food that doesn't suck" expert, I am a noted Holistic Health and Wellness Coach and own an Anytime Fitness Gym. So believe me, when I eat bread (and I eat it often) it is NOT that gummy, floury, processed goop that passes for bread in the market these days.
If You Like Bread As Much As I Do, Get Ready To Rejoice!
You see, it is not bread that is bad for you, it is the combination of highly-processed grains, sugar, and all those scary chemicals that go into making bread stay "fresh" longer.

Depending on where you live, your store-bought bread might include things like:
DO ANY OF THESE SOUND LIKE A GOOD IDEA TO YOU?
Benzoyl peroxide
Calcium peroxide
Chlorine
Chlorine dioxide gas
Azodicarbonamide (what the heck is THAT?)
Potassium bromate
Calcium bromate
Nitrogen dioxide
Yikes! Even if you aren't diabetic, and you can process gluten just fine, and your weight is never a problem, you don't need these chemicals in your body. And that's why I "wrote the book on healthy bread making".
Introducing Healthy Home Made Bread Making. The eBook That Gives You 75 Nutrient-Dense REAL Food Recipes For Superior Health.
That's right. You don't ever have to be bored with just a handful of healthy home made bread recipes. Download your copy of Healthy Home Made Bread Making right now, and you will always have a yummy loaf of healthy home made bread to serve yourself, your family and your friends.
These are NOT Your Typical "Bread Machine" Recipes That Feel Like They Should Be Healthy, But Really Are Not.
Look, even if you are eating whole wheat bread, you are not eating healthy. Wheat flour is processed flour. No better for you than white flour is. Our early ancestors did not bake their bread using flour. In fact, hearth baked bread was around for a few thousand years before someone even thought about processing grains to make flour.

Here are just a sample of the delicious bread recipes you'll find inside...
almond flour paleo bread
almond quinoa chia bread
banana bread paleo single serve
banana walnut loaf
blueberry breakfast bread
carrot zucchini bread
fruit and nut bread
green monster bread
inside out bread
low carb chia bread
low carb pancakes
paleo pumpkin bread
paleo sandwich bread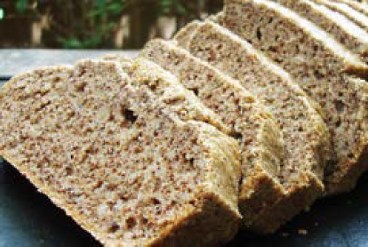 paleo wheat look-a-like bread
pumpkin bread
pumpkin walnut and cranberry
quick quinoa buckwheat skillet
quinoa and chia seed bread
quinoa zucchini bread
raisin pumpkin bread
sweet potato bread
Healthy Home Made Bread Making Is Loaded With Recipes I Developed, Tested And Prepare For My Family And Friends Over And Over.
Get ready to enjoy the most delicious breads that have ever landed in your mouth, with NO GUILT.

Of them all, My favorite recipe in this eBook is one called "Life Enhancing" Loaf - sort of like a muesli in a loaf. I make it every day or two and it is always different. Loaded with super healthy ingredients like seeds, nuts, coconut oil, dried fruit, oats and so on. Even my grandchildren love it smeared with homemade coconut butter or chia jam.
Download Your Copy Of Healthy Home Made Bread Making Right Now, 100% Risk Free!
That's right. I GUARANTEE you are going to love my Healthy Home Made Bread Making eBook so much, I'll give you 30 days to try any of the recipes in the comfort of your own kitchen. Then, if Healthy Home Made Bread Making isn't everything I say it is; if it isn't everything you HOPE it is, just let me know and I'll refund 100% of your investment of just $14.95. How's that for confidence?
Discover The Healthy Benefits Of Eating Bread Made With Ingredients That Are GOOD For You.
100% of the recipes in my eBook are made with ONLY healthy ingredients like:
| | |
| --- | --- |
| | Buckwheat |
| | Quinoa |
| | Chia |
| | Sprouted Whole Grains, and More |
There really is a healthy alternative to store-bought bread.
If you have been avoiding bread, or even if you have been eating chemical-laden store-bought bread, give your body a treat and
download your copy of Healthy Home Made Bread Making for just $14.95. You'll love it or I'll give you your money back.
I wish I could see the smiles on the faces of your family and friends when they bite into the most delicious and healthiest bread they have ever tasted.
To Your Health,

Author, Health And Business Expert, Fitness Centre Owner, & National Champion Bodybuilder
P.S. Remember: Even if you are gluten-intolerant, a diabetic, or counting calories, you can have 75 healthy and delicious bread recipes that are chemical-free and made with wholesome ingredients. I have personally developed and tested these recipes and use every one of them in my meal planning. There is nothing like the warm, enticing aroma of fresh-baked bread. And now, thanks to my
Healthy Home Made Bread Making
eBook, you can put bread back on your menu
Risk-Free!
Download your copy now for just $14.95 and you're protected by my
30-day Money-Back Guarantee
.
I'm Going To Remove All The Risk From Your Investment Because I Want You To Get Started With These New Recipes Today!
YES

- Carolyn, I'm READY to change my approach to breadmaking today!
I understand I'll be instantly downloading the Healthy Home Made Bread Making ebook for only $37.00, $14.95 today, and today only.


On top of that, I understand my investment is backed by your risk free, no questions asked, 100% money back guarantee.
You will get INSTANT ACCESS right now
-- Even if it's 3.00 A.M.!


*NOTE: This is a digital download in Adobe PDF Format and you will be taken directly to the download page upon successful completion of checkout. Should you experience any problems being returned to the proper page, please simply email:
(carolynh@xtra.co.nz)

(Click the Order Button Above to Download.)



I hope that by now you recognise that this breadmaking recipe guide will be a valuable resource that never goes out of date and which will prove its worth over and over again.
To Your Breadmaking Success,
Carolyn Hansen
P.S.
Remember that this is
YOUR HEALTH
we are talking about. Is it worth it to forgo the potentially life-changing recipes discussed on this page by not investing in this information?
P.P.S.
You are protected by my
100% money back guarantee
.
DISCLAIMER

The website's content and the product for sale is based upon the author's opinion and is provided solely on an "AS IS" and "AS AVAILABLE" basis. You should do your own research and confirm the information with other sources when searching for information regarding health issues and always review the information carefully with your professional health care provider before using any of the protocols presented on this website and/or in the product sold here. The author is not engaged in rendering medical or similar professional services or advice via this website or in the product, and the information provided is not intended to replace medical advice offered by a physician or other licensed healthcare provider.