Goji Berry Almond Delights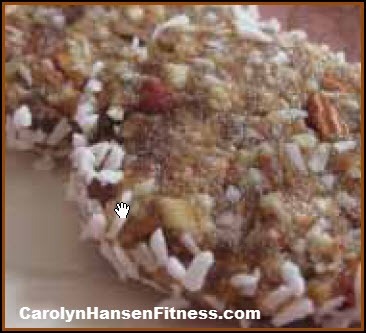 Recipe type:
Dessert/Snack
1½ cups almond meal
(almonds blended to a flour in a high speed blender)
3 tablespoons honey
¼ cup cacao nibs (or chocolate chips)
¼ cup coconut oil (warmed until liquid)
1 tablespoon vanilla essence
¼ cup goji berries (soaked in a little water or orange juice for 30 minutes and drained)
¼ cup desiccated coconut
In a small bowl mix together almond meal, honey, cacao nibs, coconut oil, vanilla essence and goji berries until well combined.
Place the desiccated coconut onto a small plate.
Take heaped tablespoons of the almond mixture and make into rough balls.
Drop onto the plate with the coconut and using a fork press the balls into flattened cookie shapes. The coconut will coat the bottoms of each cookie.
Place in fridge for an hour or so to firm up and set before serving.
Recipe by
Carolyn Hansen Fitness
at https://carolynhansenfitness.com/articles/goji-berry-almond-delights/