SWEET POTATO BARS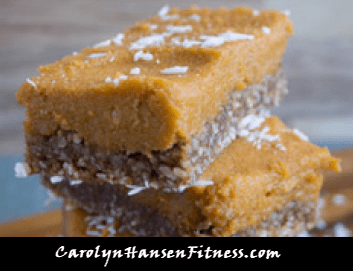 Recipe type:
Dessert, Snack
1 cup almonds
½ cup sunflower seeds
1 cup dates, soaked at least 30 minutes and drained
½ cup desiccated coconut
1 teaspoon cinnamon
2 cups sweet potato, steamed, or raw and grated
¼ cup honey
¼ cup coconut oil warmed until liquid
1 teaspoon vanilla essence
½ teaspoon cinnamon
Place almonds and seeds into a food processor and process until broke down and crumbly.
Add dates, coconut and cinnamon and process until well combined.
Press mixture into an 8x8 pan or dish.
Place all of the ingredients in a food processor and blend until smooth.
Spoon the filling onto the base and smooth out.
Place in fridge to firm up and set. Cut into squares as desired.