Chocolate Cupcakes with Coconut Frosting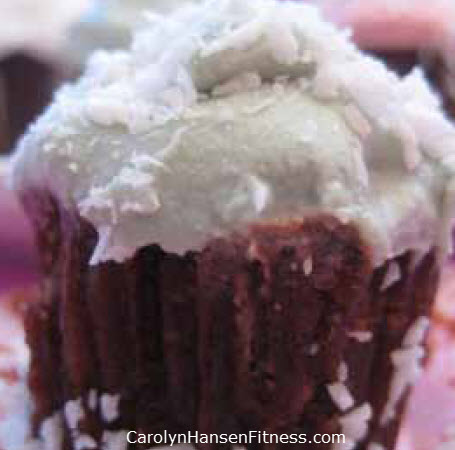 Recipe type:
Dessert, Snacks and Treats
1½ cups walnuts
1 cup dates (soaked 30 minutes and drained)
½ cup coconut oil (warmly until liquid)
½ cup cocoa or cacao powder
2 teaspoons vanilla essence
1½ cups desiccated (or fresh) coconut
¼ cup honey
½ cup coconut oil (warmed until liquid)
1 teaspoon vanilla
mint or peppermint essence
water as needed
Place walnuts and dates into food processor and blend until a sticky dough is formed.
Add cocoa, coconut oil and vanilla and process again until well combined.
Press mixture into silicone cupcake molds and place in fridge to firm up.
Place all ingredients in food processor and blend until a dough like paste is formed adding a little water a tablespoon at time to allow mixture to become thick and creamy.
Place frosting in fridge for a few hours to firm up or in freezer for an hour then place on top of chocolate base and decorate with coconut flakes.
Recipe by
Carolyn Hansen Fitness
at https://carolynhansenfitness.com/articles/enjoy-cupcakes-the-healthy-way/