Peach Tart with Lemon Ginger Cream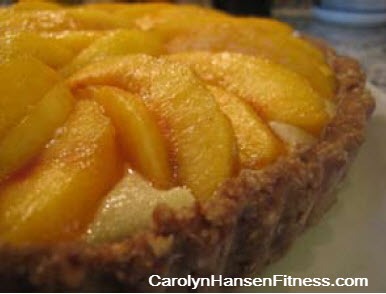 Recipe type:
Snack, Desserts and Treats
2 cups pecans (or almonds)
1 cup dates
1 teaspoon ground cinnamon
¼ teaspoon sea salt
water as needed
2 cups cashews soaked 1 hour and drained
juice and zest of 1 lemon
½ cup agave nectar or honey
3 teaspoons grated fresh ginger
2 tablespoons coconut oil
water as needed
4 large peaches, peeled, pitted, and sliced ¼ inch thick
Any other fresh or frozen fruit can be used for variation
Place all ingredients in a food processor and blend until well combined. It the mixture is a
bit dry and crumbly add a little water a tablespoon at a time until the mixture is sticky and
can hold itself together. Press the dough into the bottom and up the sides of a pie pan with
a removable base.
Combine all of the ingredients in a blender and blend until smooth. Add water as necessary
to blend it, but try to keep it as thick as possible. Spread the cream in the tart crust.
Arrange the peaches over the top of the tart and chill for at least an hour before serving
Recipe by
Carolyn Hansen Fitness
at https://carolynhansenfitness.com/articles/1082/