NUT FREE CARAMEL SANDWICH BITES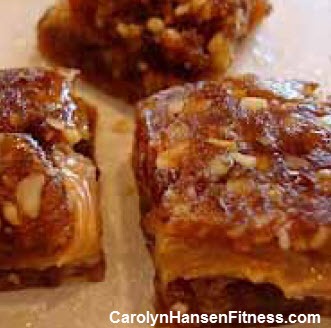 Recipe type:
Healthy Snacks and Desserts
½ cup pine nuts (these are seeds not nuts)
½ cup dates (soaked 30 minutes and drained)
1 teaspoon vanilla essence
½ cup any sort of nut butter for filling
Place all ingredients (except nut butter) into a food processor and blend until a sticky dough is formed. Be careful not to over process. Turn mixture out on to a tray covered with parchment paper and flatten into a square shape around 6-8 inches square.
Place in fridge for a few hours then spread half the flattened dough with any sort of nut butter. Flip over the uncovered part of the dough on to the nut butter covered part.
Cut into bite sized sandwich bites.
Enjoy!
Recipe by
Carolyn Hansen Fitness
at https://carolynhansenfitness.com/articles/dates-are-the-perfect-replacement-for-sugar-in-nut-free-caramel-sandwich-bites/