From The Desk Of Carolyn Hansen
Re: How To Give Up The Junk Food Without Punishing Your Taste Buds
I must confess, I DO like to eat.
But at the same time, as a health professional with more than 30 years of dedication to helping people repair and maintain their bodies, food can be one of the fastest ways to destroy it. Or more correctly, the WRONG food choices.
This is why I have taken the time to create 2 volumes that outline everything I have learned over the years about what it takes to create dessert recipes using healthy eating principles that are EASY to implement, and just as important, never leave you feeling like you are depriving yourself.
In short, if one of your goals is to live a healthy lifestyle, these 2 books will prove invaluable. And to thank you for stopping by today I have added a special bonus to the offer for you which I call
The Healthiest Breads Ever
.
The following products which make up the collection normally sell separately for
$54
but you can use the
special link
at the bottom of the page to pick them up TODAY ONLY for
significantly less
before the timer hits zero...
Grab Your 50 Healthy Raw Desserts Offer Before The Offer Countdown Expires And Get ALL Of The Following Products...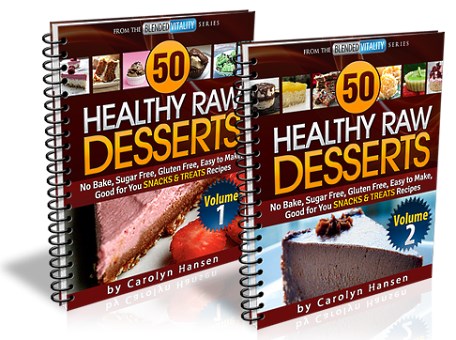 50 Healthy Raw Desserts
Normally $27
My healthy snacks recipe book proved to be
so popular
that it motivated me to return to my kitchen to see what else I might be able to come up with.
The result? Two more volumes - each of which, this time, contain
50 healthy raw dessert recipes
. Desserts that contain no sugar, no artificial sweeteners, no gluten, and which require absolutely no cooking. In all, more than 100 more
delicious NEW recipes
to satisfy any sweet tooth.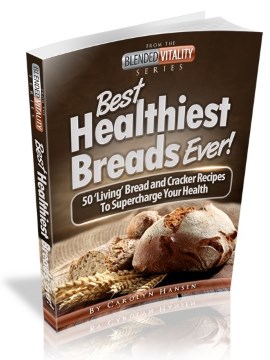 The Healthiest Breads Ever
Normally $27
Today, more than ever, eating the
right foods
for health is
not easy
. Everywhere you turn is yet another bad choice for what to put into your mouth. But if you want that trim, taut figure that promises
everlasting health
and a daily
sense of well-being
, then something needs to change...
That's why I wrote
The Healthiest Breads Ever
- because bread is such a staple of the modern diet that if you are going t have any chance of really sticking to a healthy menu then tackling this staple is the FIRST thing you need to get right...
* SPECIAL DEAL - SAVE MORE THAN 90 PERCENT *

Get ALL Of 3 Of The Products Shown Above
Thanks for stopping by :)

- Carolyn Hansen
My 30-Day Iron-Clad Money-Back Guarantee
Simply download your copy of
50 Raw Desserts - Vols. 1 & 2
right now for just
$9.95
. Then take a FULL 30 DAYS to read the product from cover to cover, and digest all of the information.
Then, if this offer isn't everything that I say it is; if it isn't everything that you HOPE it is, just let me know anytime within 30 FULL DAYS and I'll give you your money back.
That's how confident I am that
50 Raw Desserts - Vols. 1 & 2
is the answer you've been searching for.
Don't wait another minute! Download
50 Raw Desserts - Vols. 1 & 2
now so you can begin enjoying the benefits of eating right for the rest of your life.
To Your Improved Health and Long Life,

Author, Nutrition Expert, Fitness Centre Owner, & National Champion Bodybuilder